In The Press
---
Rendell Urges Obama Supporters to Push for Roggio
"You may be looking at the one vote that Barack Obama needs."
The Bulletin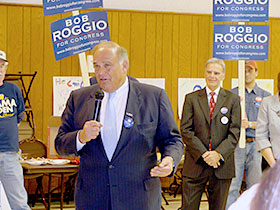 11.2.2008
COATESVILLE - Even if Barack Obama wins the White House and Democratic majorities in Congress grow, liberal policy successes won't be guaranteed.
Mr. Obama, the governor said, will need legislators who share his economic vision, like 6th District congressional hopeful Bob Roggio.
"You may be looking at the one vote that Barack Obama needs," Mr. Rendell told a crowd on Saturday at Amalgamated Local 1165, a steelworkers' union hall in Coatesville.
Mr. Roggio, running to unseat three-term incumbent U.S. Rep. Jim Gerlach, R-6th, of Berks, Chester, Lehigh and Montgomery counties, has an opponent who has often been down in past races only to win in the end. The Chester County businessman therefore knows he has to make a strenuous push for victory on Tuesday.
Read the complete article: Rendell: Dem's Push Still Crucial for Obama and Roggio


---
The Morning Call Endorses Roggio in the 6th
"Mr. Roggio would represent a big change."
The Morning Call, with the 3rd largest number of readers of any Pennsylvania newspaper, endorsed Businessman Bob Roggio for Congress over 3-Term Incumbent Jim Gerlach.
The Morning Call
10.27.2008
"Pennsylvania's 6th Congressional District is one of the few truly competitive districts left in Pennsylvania. Rep. Jim Gerlach, the Republican incumbent, is running for a fourth term against a smart and thoughtful Democrat, retired businessperson Bob Roggio. Four years ago, John Kerry won the district by 3 percentage points, but Mr. Gerlach won his race by about 2 points. In 2006, his margin was 1 point...."
Read the complete endorsement: Roggio in the 6th


---
Roggio/Gerlach Face Off in the 6th District
WMFZ-TV Channel 69 News
10.21.2008
Roggio: "There are two ways we could do a stimulus package and the way I would prefer is to actually start investing in infrastructure, hiring people, putting people to work and building our highways and actually repairing our bridges...."
Read or Watch the complete report: Roggio/Gerlch Face Off in the 6th District


---
Gerlach vs. Roggio in the PA 6th
ABC Channel 6 Action News
Action News Reporter Vernon Odom
10.9.2008
PHOENIXVILLE - Retired small business owner Bob Roggio, from Malvern, is Gerlach's latest challenger. He puts the country's troubles squarely at the feet of President Bush and, by extension, Jim Gerlach.
"If you go to the key items that we really care about in the 6th district right now are the economy, health care, Iraq, and the environment," Roggio said. "He has been tied in very closely to Bush on all four of those items."
For the first time ever in the 6th, registered Democrats outnumber Republicans.
The Obama campaign has been a registration dynamo in Pennsylvania and other key battleground states.
Read or Watch the complete report: Gerlach vs. Roggio in the PA 6th


---
Gerlach ripped for opposing bailout
Philadelphia Inquirer
10.1.2008
The day after U.S. Rep. Jim Gerlach (R., Pa.) voted against the $700 billion financial bailout package, his Democratic opponent called the vote "derelict" and lacking courage.
"He deserves to be fired," said Bob Roggio, a retired small-business owner from Chester County who is running for the Sixth Congressional District seat. "This proves he cannot handle the business of America."
Read the complete article: Gerlach ripped for opposing bailout


---
On The Rescue Package: Profiles in Politics
Politics appeared to trump leadership in Washington yesterday
Philadelphia Inquirer
9.30.2008
Led by a Republican uprising, the House rejected a $700 billion taxpayer bailout of the financial industry, further roiling financial markets. The Dow industrials fell 777 points - nearly 7 percent - after the bailout plan was voted down. It was the worst single point-drop ever.
Wall Street's latest Black Monday was a black eye on congressional leaders in the nation's Capitol.
Read More: Profiles in Politics


---
Democrats widen lead in battle for Congress
CNN
9.23.2008
WASHINGTON (CNN) – Call it the overlooked election. An intense battle is going on right now for control of Congress, but it's overshadowed in the media by a historic race for the White House.
So which party has the upper hand in the fight for Capitol Hill?
The answer, according to a new national poll, appears to be the Democrats. In a CNN/Opinion Research Corp. survey released Tuesday, 56 percent of those questioned are backing the Democratic candidate for Congress, while 42 percent support the Republicans.
Read the complete article: Democrats Widen Lead in Battle for Congress


---
6th District Battle Could Be a Real Nail-Biter
Jewish Exponent
8.28.2008
6TH DISTRICT, PA — If Pennsylvania has always been a battleground state for Republicans and Democrats, then the 6th congressional district -- an oddly carved-out area that encompasses parts of Berks, Chester and Montgomery counties, including Lower Merion Township -- has often served as the front line, a region where candidates and the national parties have spent millions of dollars in order to sway voters.
In three previous congressional elections, U.S. Rep. Jim Gerlach, a 53-year-old Republican, has never won by a margin larger than 2 percentage points....
Read the complete article: 6th District Could Be a Real Nail-Biter


---
Press Archive