Berks County, Pennsylvania
---
Berks County Headquarters
(610) 898-1316
2 Woodland Road
Wyomissing, PA  19610
(Near the Berkshire Mall)
View Photos from Bob's 50 Town Tour for Change on Flickr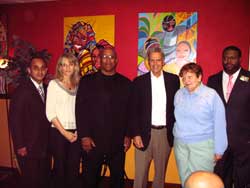 Following Reading's Economic Forum, Bob attended Afro-Latino Magazine's 100th Edition Celebration at Mi Casa Su Casa in downtown Reading. The event was hosted by Angel Figueroa and also celebrated the campaigns of Mike O'Pake and Bob Roggio. At right, Angel Figueroa, Jeannie Roggio, Reading City Council President Vaughn Spencer, Bob Roggio, City Councilwoman Marcia Goodman-Hinnershitz & Afro-Latino Magazine Editor and Founder Earl Lucas
Bob held a forum in Reading on Friday, Sept. 26th to discuss the current economic downturn, to outline his plan to get America back on track and to listen to the people of Berks about their concerns.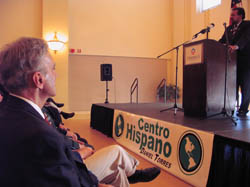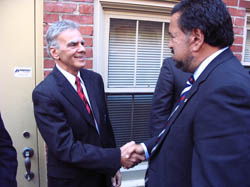 Bob attended the Centro Hispano's "Cafe con Bill Richardson" event on Monday, September 22, 2008 and got to meet and talk to the New Mexico Governor and former Presidential candidate afterwards. Bob was recognized by Governor Richardson several times in the forum as a candidate that is needed in Washington.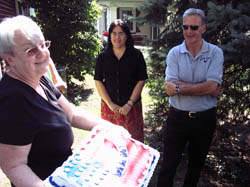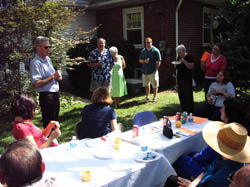 Sue Brenner (left) encourages attendees at her house party for Bob Roggio to "Rock the Vote." At right, Bob talks to friends, neighbors and supporters at the home of George Missonis and Sue Brenner in Wyomissing.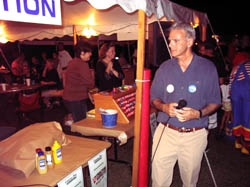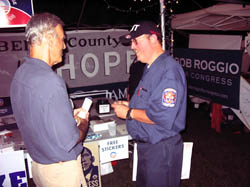 On September 13, 2008, Bob attended the Carsonia Park Carnival where he (left) spoke to the crowd about the importance of voting and (right) meets with a concerned EMT voter.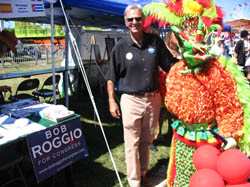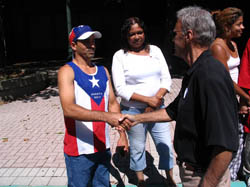 Bob spends some time getting to know Reading's Latino population by walking in the 22nd Latin American Association Festival parade and greeting voters at the festival.
Reading's Annual Labor Day Parade!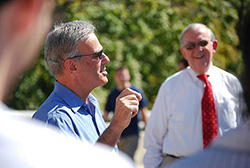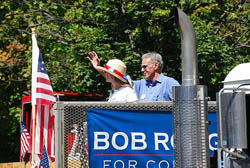 Bob Roggio rallies the volunteers before the Parade as Mayor Tom McMahon looks on. The Bob Roggio for Congress campaign came up to Reading for the Annual Labor Day Parade, Sept. 1, 2008.
Click here to see additional photos from the parade.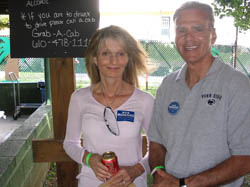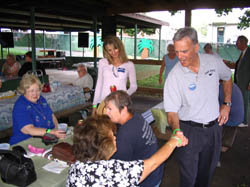 Jeannie & Bob Roggio enjoy the Reading City Committee picnic
August 17, 2008.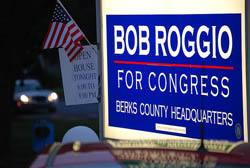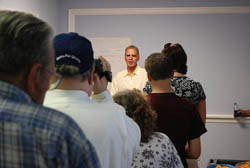 On August 13, 2008, Bob Roggio for Congress celebrated the opening of its Berks County Headquarters. The evening was shared with John Woodward for State Rep. as well, as the office is shared with their campaign.
Click here to View Photos from the Berks Office Opening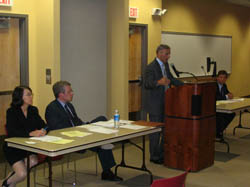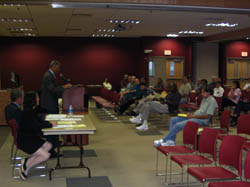 Bob participates in a candidates forum sponsored by Working Families Win at Reading Area Community College on August 12, 2008.
The 154th Annual Reading Fair!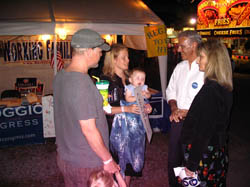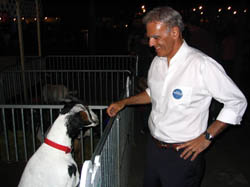 Bob & Jeannie Roggio take in the sights and sounds of the
154th Annual Reading Fair.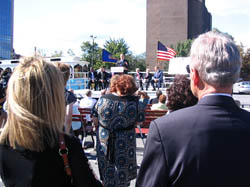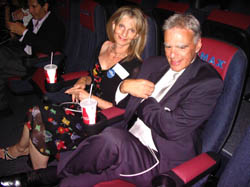 Bob & Jeannie Roggio attend the Governor's announcement of the new hotel in downtown Reading across from the Sovereign Center and the grand opening of the new IMAX theater, August 8, 2008.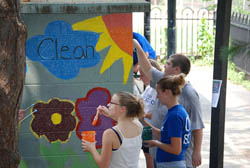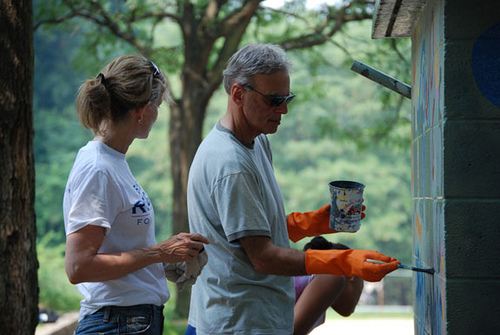 The entire staff of Bob Roggio for Congress, Bob & Jeannie Roggio, and members from Reading Beautification, Inc. participate in graffiti removal and clean-up of Neversink Park in Reading, PA on July 30, 2008.
Click here for more photos from our community day of action.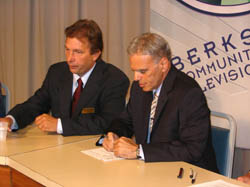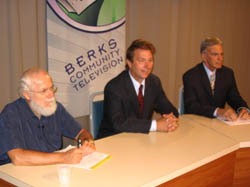 Bob Roggio and Bruce Slater, U.S. Congressional candidates vying for 2 separate parts of the City of Reading and Berks County, appear as guests on BCTV's "Alternative News & Views" with hosts Bob Millar & John Sellers.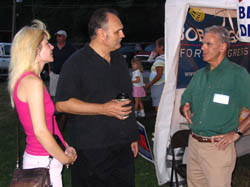 Bob & Jeannie Roggio meet with festival goers at Muhlenberg Community Days in Temple on July 26, 2008.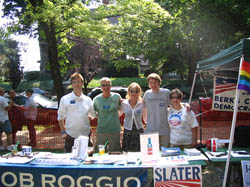 Bob attends and speaks at the Reading Pride Celebration in Centre Park in Reading on July 20, 2008. (Left: Keith White, Bob Roggio for Congress office manager, Bob & Jeannie, Dan Sauder, Berks & Lehigh County field director, and Obama delegate Eileen Prussman)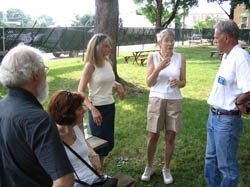 Bob and Jeannie Roggio talk with Bob & Lynn Millar (left) and County Party Chair Tom Herman's wife, Jo, at the Berks County Democratic Committee's Annual Picnic at the 18th Ward Democratic Club in Reading. At right, Bob talks to a packed house at the grand opening of the Kutztown Democratic Club's headquarters in Kutztown.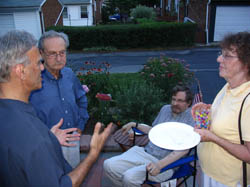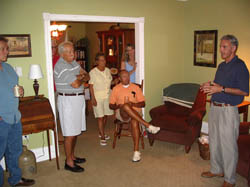 Bob Roggio greets guests and answers questions at the home of Russ & Carol Hummel in Shillington. Russ Hummel ran for State House in 2006 and is supporting Bob in his bid for the 6th District.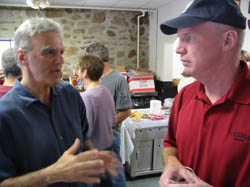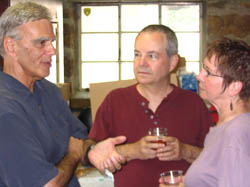 Kutztown Democratic Club's annual "Summer Bash" is held in Mertztown at the end of June. Bob and U.S. Congressman (17th CD) Tim Holden speak (left) and Bob meets with attendees Ron Stouffer & Rosie Skomitz.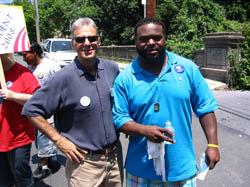 Bob spent the day in Berks on June 21, 2008, first, by speaking at the Berks County Democratic Committee meeting where he introduced his most recent new hire, Dan Sauder, as the Berks & Lehigh County Field Director, as Party Secretary Dick Horton takes notes. Later, Bob and his wife, Jeannie, participated in the Afro-Latino Parade in Reading. Bob poses with Afro-Latino Magazine founder and editor, Earl Lucas (Right).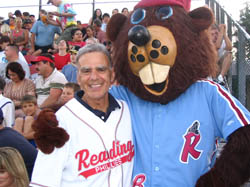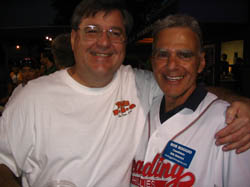 Bob at a Reading Phillies game on June 12, 2008 talking to a member of his future mascot constituency "Bucky" (left) and Berks County Democratic Committeeman, Phil Kearney.
---
What portions of Berks County are in the 6th District?
Find out with Berks Election Services Maps.
---
A Brief of History of Berks County
Berks County was formed on March 11, 1752 from parts of Chester County, Lancaster County, and Philadelphia County. It was named Berks after Berkshire England, the childhood home of William Penn.
Berks County hosts a number of beautiful parks. One great area to visit is Gring's Mills, which includes two historical buildings and extensive recreational facilities. Elsewhere, the Kutztown Historical Society has a museum dedicated to preserving early Pennsylvania history.